Ensuring that a company's vision and mission and core values are living on farm via pre-training, targeted training, and post-training animal care competency measurements
Research shows the See it. Do it. Teach it. method used in Pork Avenue Training Portal learning experiences increases competency expressions on farm. This study follows a farm that had a baseline expressed competency of 66%. After using the See it. Do it. Teach it. method, the staff averaged a 100% competency expression rate, a 34-percentage point improvement over the baseline!
Inspiring a verified culture of care post-identification of abuse on an undercover video using a baseline assessment of expressed competencies compared to post training measurement of expressed competencies
This case study follows a company's training response to an undercover video taken by a swine farm employee. Baseline competencies were measured, and it was determined the farm staff averaged a 25.8% competency expression. After using the See it. Do it. Teach it. method used in Pork Avenue Training Portal learning experiences, the staff averaged a 95% expressed competency rate.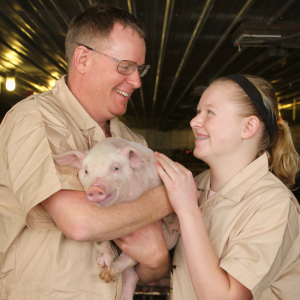 Training, motivation, and a culture of safety at Maple Leaf Agri-Farms
Maple Leaf Agri-Farms wanted to guide employees from a reactive system to a proactive system. Employee engagement, team building and fast action from management have been three of the key ingredients to Maple Leaf Agri-Farm's success in creating a culture of health and safety. Ultimately, this empowerment and awareness alongside implementation of Pork Avenue Training Portal is what has substantially decreased the number of injuries in the workplace at Maple Leaf Agri-Farms and positioned them to be a company acknowledged and awarded for their commitment to human safety.
Impact of Two Training Implementation Plans on Post-Training Competency Expression of Personnel on Farm
This study analyzes two training programs; Training Program A was the traditional program utilized on this farm and Training Program B utilized Pork Avenue Training Portal. Both training programs showed competency improvement, but Training Program B showed a higher level of improvement, raising competency expression on farm 26 percentage points above Training Program A. Post study, the system decided to enroll all 600 employees in Training Program B.
The Impact of Trained and Untrained Personnel on Product Implementation and Subsequent Pig Health
The Day 1 Pig Care lessons on Pork Avenue Training Portal improve on farm staff competencies and piglet survival rates. By utilizing these lessons and the See it. Do it. Teach It. method used in Pork Avenue Training Portal learning experiences, Farm B achieved a 96% ranking in the SMS database, achieving their goal to be in the top 10% of farms in the database; only 40 farms ranked above Farm B in this category. Farm B also achieved an 89.2% piglet survivability rate; the average system survivability rate is 78.8%.
Example Curriculum per Job Description and Tech Level
Proper training leads to increased employee retention and fewer accidents. This spreadsheet lays out an example curriculum based upon job description on farm. There are lessons available that cover all aspects of pig care along with a full range of human health, powerwashing, transportation, and OSHA-approved safety lessons, plus so much more. From farrow to finish, new employees to experienced workers, and everything in between, we have your learners covered with our complete catalog of courses!